Special Features*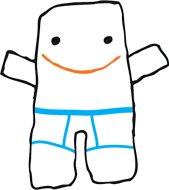 *

World's first after sex doll

*

Attentive and loving even after climax

*

Cute and cuddly

*

Eliminates awkward after sex moments

*

Heatable, stuffed with cotton and flax seed.

*

Hand-made, fair trade.
Too many women know the disappointment of being with a man who has happily ejaculated and then, incredibly, is ready to call it a night, turn on the TV, sneak out the back door, or just roll over and fall sleep.
Just as her guy is checking out, she's checking in. She's got cuddling on the brain and he's feeling about as warm and fuzzy as a cactus.
Never again does a woman need to feel abandoned after sex! My After Sex Buddy, the world's first after sex doll, does what many men fail to do: be attentive, snuggly and nurturing even after climax. My After Sex Buddy is cute, cuddly and heatable, and most importantly, immobile!

Why My After Sex Buddy
We've come to expect that men will do anything to avoid cuddling after sex. My After Sex Buddy is a great novelty gift for women who want to drive the message home to their male partners that if they intend to cum, they better intend to stay.
As a firm committed to stimulating public discussions around sensitive social issues, Mojumbo Media Group set out to design a fun and innovative product and campaign to stimulate a healthy, public discussion around the "after sex" experience. Although the Buddy has that amazing, cuddle-inducing, pleasure factor, and may be viewed as a novelty, it can also serve as a starting point for discussion between partners about their feelings about sex and, of course, after sex! My After Sex Buddy can be given by a woman to a female friend ("Sister, I know your pain."), or to a male partner ("Can we talk?"), even to a girlfriend or wife ("I'm sorry I'm a man.")
Reflecting our commitment to responsible corporate and manufacturing practices, My After Sex Buddy is a hand-made, fair trade product manufactured by Microsensations and a collective of single mothers in Columbia.
Instructions:
1. He climaxes.
2. Your male partner retreats.
3. Heat My After Sex Buddy.*
4. Cuddle.
5. Snuggle.
6. Repeat.
*Heat on high in microwave for 30-60 seconds. Heating time may vary with microwaves.
CAUTION:
Excessive Cuddling of My After Sex Buddy may make your man jealous enough to stick around after sex!